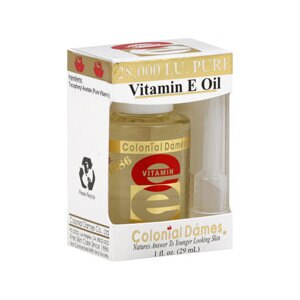 Colonial Dames Pure Vitamin E Oil 28,000 IU
Natures answer to younger looking skin. Certified 28,000 IU vitamin E HPLC assay. Fast acting moisturizer. Pharmaceutical grade vitamin E. Softens scars & rough dry skin. Powerful anti-oxidant. Free radical protection. Promotes soft radiant skin. Cruelty free. Never tested on animals. This Pure vitamin E oil has been assayed at 28,000 IU per bottle and is dermatologist tested and approved as an inherent anti-oxidant. We use only the finest pharmaceutical grade vitamin E so you know you are getting the very best. Now you can apply the benefit of vitamin E to your skin to resist those aging signs - fine lines and wrinkles. Vitamin E helps your skin stay soft, supple, and youthful looking. Fine skin care since 1886. Not connected with any society.
Tocopheryl Acetate (Pure Vitamin E).
Best for night time use. Clean your skin thoroughly before using. Apply a small amount to clean skin and massage in lightly with gentle pats and upward strokes. Leave on overnight.