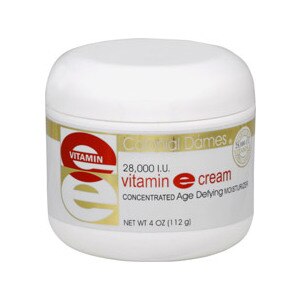 Colonial Dames Vitamin E Cream 28,000 IU
Concentrated age defying moisturizer. Certified HPLC assay. Visit us online at: www.colonia-dames.com. Cruelty free. Never tested on animals. This concentrated Vitamin E Cream is certified to contain one full ounce (28,000 IU) pure vitamin E oil. Use regularly to moisturize, soften and smooth fine lines for youthful radiant skin. See the difference and feel the soothing, lasting benefits of vitamin E. Just like nature intended. Apply this precious moisturizing cream to face and throat, with special attention to fine lines, under-eye tissue and any dry or irritated areas. Use nightly and under makeup for 24 hour care. You can be sure with the Seal of Certified Potency. Fine cosmetics since 1886. Not connected with any society.
Purified Water, Tocopheryl Acetate (Vitamin E), Glyceryl Stearate, Isopropyl Myristate, Stearic Acid, Propylene Glycol, Sorbitol, Mineral Oil, Decy Ioleate, Cetyl Alcohol, Triethanolamine, Diazolidinyl Urea, Allantoin, Methylparaben, Propylparaben, Fragrance, Red 4, Yellow 5.