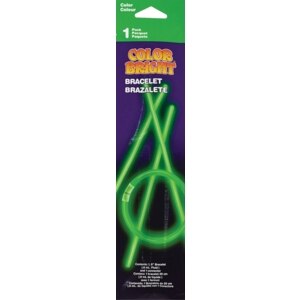 Contains: 1, 8 inch bracelet (0.8 ml fluid each) and 1 connector. Made in Mexico.
Handle with Care: All Glow products should be handled carefully to avoid accidental activation. Keep product in original package until ready to use. When ready to use, remove gently from package. Bend along the entire length of the product and shake. Full glow can take a few minutes. Attach connector to both ends of product.
Do not puncture or cut product. Ingredients are non-toxic and non-flammable, but may permanently stain fabrics or furniture. Contact with skin or eyes may cause temporary discomfort. In case of skin or eye contact, rinse thoroughly with water. Do not drink or ingest product. After activation, do not bend product. Do not leave product in direct sunlight or expose to high temperatures. After use, dispose of in refuse container. Unsuitable for children under 3 years of age, due to small parts. Please retain this packaging for future reference.