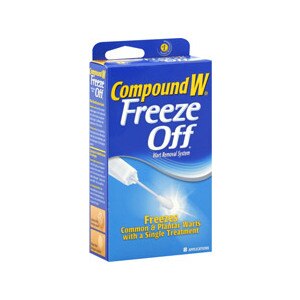 Compound W Wart Removal System
Freezes common & plantar warts with a single treatment. Improved no-drip dispenser. No. 1 pharmacist recommended brand. Compound W Freeze Off is safe and easy to use! Compound W Freeze Off is a fast and effective treatment for the removal of common warts and plantar warts. Common W Freeze Off freezes the wart on the spot, causing the wart to fall off within 10 to 14 days, usually after one application. Compound W Freeze Off is suitable for the removal of common warts and removal of plantar warts on the bottom of the foot on adults and children over the age of 4. This package can be used to treat up to 8 warts. Common warts are skin-colored, usually appear on the hands and feet, and are easily recognized by the rough cauliflower-like appearance of the surface. Plantar warts are recognized by their location only on the bottom of the foot, their tenderness, and their interruption of the footprint pattern. Made in the Netherlands.
Dimethyl Ether and Propane.
Read the label and entire information leaflet before use. Keep reference. See information leaflet. If information leaflet is missing, contact the distributor for another copy before using this product. Common Warts: Attach; Insert; Press & hold down for 2-3 seconds; Apply maximum 20 seconds. Plantar Warts: Soak foot in water - minimum 5 minutes; Rub callous with pumice stone (not included) to expose wart; Press & hold down for 2-3 seconds; Apply minimum 10 seconds. Store at room temperature away from heat.
Extremely flammable. Contents under pressure. Keep away from fire, flame, and heat. Do not smoke while using this product. Protect from sunlight and do not expose to temperatures above 120 degrees F. Keep out of reach of children. Avoid contact with eyes. Do not inhale vapor/spray and use only in well-ventilated areas. Do not swallow. For external use only. Use Compound W Freeze Off only if you are sure the skin condition is a wart. If you are not sure, consult your doctor. Do not use if you cannot see clearly to read the information on the container or the information leaflet. Do not use if you cannot see clearly the wart you are treating. Use only as directed. If Compound W Freeze Off is not used exactly as instructed or if you mistakenly apply it directly to the skin or use it on conditions that are not warts, it may cause serious burns and permanent scarring of the skin. Compound W Freeze Off should only be used in combination with the applicators provided. Use one foam applicator for each wart. Do not reuse applicator. Do not treat each wart with Compound W Freeze Off more than three times in total.