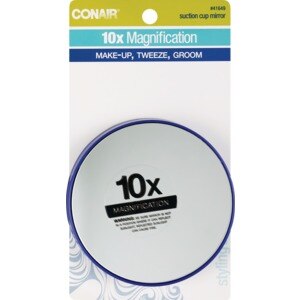 Conair 10X Magnification Stickaround Mirror
Perfect for makeup, tweezing, contacts. Sticks to any smooth surface. Easy on/off suction cups. Packs to travel. Taking care of hair for over 40 years. Made in China.
Product Type:

Magnifying
Attach: Press suction cups firmly against any smooth, clean surface (moisten cups for extra holding power). Remove: Lift edge of each suction cup with fingernail or blunt object to release seal.
Be sure mirror is not in a position where it can reflect sunlight; reflected sunlight can cause fire.