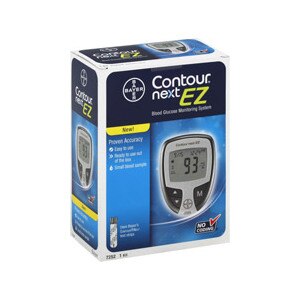 Proven accuracy. Easy to use. Ready to use out of the box. Small blood sample. Use Bayer's Contour Next test strips. No coding. For self-testing, monitoring and management of blood glucose. In this kit you will find: Contour Next EZ Blood Glucose Meter; user guide and quick reference guide; Bayer's Microlet 2 lancing device; 10 Microlet colored lancets; logbook and carrying case. For patent information see: www.bayerdiabetes.com/patents. Bayer HealthCare LLC is dedicated to providing the highest quality products and services to our customers. 5 year limited warranty. Simple to use. No coding technology. Small blood sample - 0.6 ul. Fast 5-second countdown. Personalized settings. Optional advanced features. Pre- and post-meal markers with adjustable testing alarms. Visit ContourChoice.com for savings, support, special offers, and more. Can be used with Bayer's diabetes management software. Meter made in Japan.
This item is FSA (Flexible Spending Account) eligible.
For in vitro diagnostic use. Store meter at 41-86 degrees F.
Bayer HealthCare does not warrant use of Bayer's Contour Next EZ blood glucose meter with any test strip other than Bayer's Contour Next blood glucose test strips.