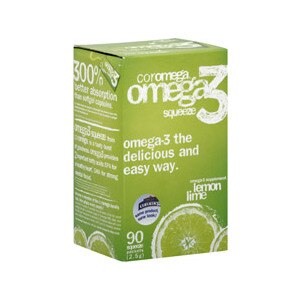 Coromega Daily Dose Packets Lemon-Lime Flavor
Omega-3 the delicious and easy way. Same product new look! It all began when a little girl in Norway wouldn't take her fish oil. Norwegians don't handle such news well. And her grandfather, a reknowned scientist, was determined to find a solution. His discovery later became Coromega; a way for her to get her omega-3 in a way she loved. Colored with chlorophyll and turmeric. No sugar or artificial sweeteners. No dairy, yeast, wheat or gluten. NSF tested & certified. Molecularly distilled for purity! 300% Better absorption than softgel capsules. In a clinical study, the omega-3 in Coromega was shown to enter the bloodstream faster, at 3 times the levels of a fish oil product in softgel form (Source: AOCS Press, Coromega Bioavailability Study). Omega 3 squeeze from Coromega is a tasty burst of goodness. Just squeeze. Omega 3 provides 2 important fatty acids: EPA for a healthy heart, DHA for strong mental focus (These statements have not been evaluated by the Food and Drug Administration. This product is not intended to diagnose, cure or prevent any disease.)
Fish Oil, Water, Pasteurized Egg Yolk, Ascorbic Acid, Natural Lemon Lime Flavor, Stevia Leaf Extract, Vegetable Oil, Sodium Ascorbate, Citric Acid, D-Alpha Tocopherol, Potassium Sorbate, Sodium Benzoate, Xanthan Gum, Menthol, Turmeric Root Extract, Chlorophyll.
Adults and Children Over 4: Take one packet daily with or without food, or as directed by your health professional. Tear along perforation, and squeeze directly into mouth or onto a spoon. Coromega omega-3 may be added to cold food, such as yogurt, or a smoothie. While Coromega omega-3 does not require refrigeration, some people prefer to take it cold. Do not freeze or heat.
Consult your physician before taking this or any dietary supplement. Contains egg.