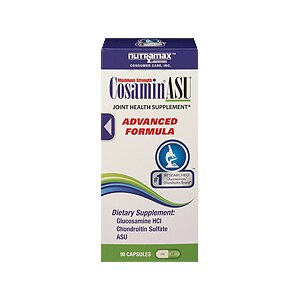 Cosamin ASU Advanced Formula Joint Health Supplement Capsules
Joint Health Supplement. FCHG49 glucosamine. TRH122 chondroitin sulfate. NMX1000 ASU. The No. 1 brand recommended by orthopedic specialists. Our most potent formula for joint discomfort. Shown to work better than the combination of glucosamine + chondroitin sulfate (In laboratory cell culture studies of inflammatory markers associated with joint discomfort and cartilage breakdown, it was found that the combination of ASU [avocado/soybean/unsaponifiables] + glucosamine + chondroitin sulfate was better than the combination of glucosamine + chondroitin sulfate in reducing these markers). 4 Capsules Contain: Glucosamine HCl - 1500 mg; Chondroitin sulfate - 800 mg; ASU blend - 400 mg. Help your joints last longer. CosaminASU is the most complete and comprehensive joint support supplement available; is supported by US published research; is manufactured in the United States following standards practiced in the pharmaceutical industry; follows Tips for the Savvy Supplement User; contains decaffeinated green tea extract for antioxidant health benefits. Tested & certified by NSF. Dual synergy. Triple action. CosaminASU contains FCHG49 glucosamine, TRH122 sodium chondroitin sulfate, and NMX1000 avocado/soybean unsaponifiables, Nutramax Laboratories exclusive proprietary researched specifications. (These statements have not been evaluated by the Food and Drug Administration. This product is not intended to diagnose, treat, cure, or prevent any disease.)
ASU Blend: Avocado/Soybean Unsaponifiables (ASU) Powder (Containing a Minimum of 300 mg of ASU Powder Standardized to Contain a Minimum of 30% Avocado/Soybean Unsaponifiables), Green Tea Leaf Extract. Glucosamine Hydrochloride (Crab and Shrimp [Derived from Crab and Shrimp]), Sodium Chondroitin Sulfate, Gelatin, Proprietary Blend (Avocado/Soybean Unsaponifiables, Soy Protein Isolate, Soy Phosphatidylcholine Complex, Tocopherols [Preservative], Green Tea Leaf Extract, Silicon Dioxide), Gum Resin, Titanium Dioxide, FD&C Yellow 5, Magnesium Stearate, FD&C Blue 1, Natural and Artificial Flavors.
May be taken all at once or divided with meals throughout the day. Maximum Protection: 4 capsules per day. Maintenance (Once desired effect is noticed): Gradually reduce the number of capsules to maintain comfort level. Keep in a cool, dry place.
If you have any condition or allergy that requires medical attention, you should always consult your physician before taking any drug or dietary supplement. Some ingredients in this product may be manufactured in a facility that also handles soy, wheat, and/or milk. Keep out of reach of children.