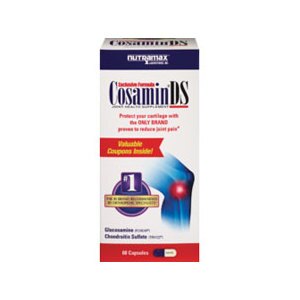 Joint Health Supplement. Exclusive formula. Protect your cartilage with the only brand proven to reduce joint pain. The No. 1 brand recommended by orthopedic specialists. Glucosamine (FCHG49). Chondroitin Sulfate (TRH122). Helps your joints last longer. Cosamin DS is recommended by Doctors and Pharmacists for joint health. The only brand proven effective in controlled, published U.S. studies to reduce joint pain. Shown in laboratory tests to protect cartilage cells from breakdown. Contains the full clinical strength of active ingredients-compare to other brands. Manufactured in the United States following standards practiced by the pharmaceutical industry. One bottle can last up to 2 months on a long-term basis. Works better. Lasts longer. Safe and Economical: There are no known interactions or serious side effects with Cosamin DS; exclusive formula allows reduction in the number of capsules taken over time. Tested and certified by NSF. The original researched brand. Cosamin DS contains FCHG49 Glucosamine and TRH122 sodium chondroitin sulfate, Nutramax Laboratories exclusive proprietary researched specifications. (These statements have not been evaluated by the Food & Drug Administration. This product is not intended to diagnose, treat, cure or prevent any disease.)
Glucosamine Hydrochloride (Crab and Shrimp (Derived from Crab and Shrimp)), Sodium Chondroitin Sulfate, Manganese Ascorbate, Gelatin, Water, Magnesium Stearate, Titanium Dioxide, FD&C Red 3 and FD&C Blue 1.
Nutrition Facts
Serving Size: 1capsule
Servings Per Container: 60
Variation:
| Nutrient | Amount per Serving | % Daily Value |
| --- | --- | --- |
| Calories | 5 | |
| Manganese (from Manganese Ascorbate) | 3mg | 150 % |
| Vitamin C (from Manganese Ascorbate) | 16mg | 25 % |
| TRH122 Chondroitin Sulfate (Contains Approximately 8% Moisture) | 400mg | |
| Sodium (as Bound to Chondroitin Sulfate) | 35mg | -2 % |
| High Purity FCHG49 Glucosamine HCI | 500mg | |
May be taken once daily or throughout the day. Initial 1-2 Months: 3 capsules per day. Economical Long-Term: 1-2 capsules per day.
If you have any condition or allergy that requires medical attention, you should always consult your physician before taking any drug or dietary supplement. Keep out of reach of children. Keep in a cool, dry place.