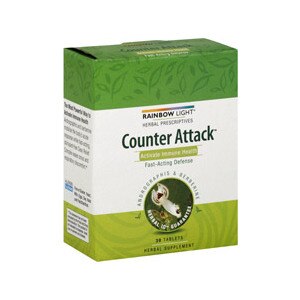 Counter Attack Immuno-Response Tablets
Herbal Supplement. Activate immune health. Fast-acting defense. Andrographis & berberine. The most powerful way to activate immune health. Andrographis and berberine mobilize the body's acute response while fast-acting, stimulant-free Clear Relief Complex eases sinus and respiratory discomfort. Allergen SafeGuard: Free of gluten, yeast, milk, eggs, soy, nuts and fish/shellfish. Herbal IQ Guarantee Our comprehensive Herbal IQ Guarantee program ensures thorough review by qualified herbalists of selected herbs and combinations, research-based potencies, and identity verification and purity testing of all inbound materials at our GMP-compliant, USA-based facility. Formulated by Christopher Hobbs, PhD. Guarantee: 100% Natural - Free of artificial colors, flavors, sweeteners, preservatives and other objectionable additives often found in vitamin products. Contains no sugar or lactose. VeganGuard screened for vegans to be free of animal product. (This statement has not been evaluated by the Food and Drug Administration. This product is not intended to diagnose, treat, cure or prevent any disease.)
Defense Bolstering Botanical Blend: Berberine (Sulfate) from Indian Barberry, Oregano [Leaf] Oil. Response Mobilizing Herbal Complex (Equivalent to 1,975 mg of Herbal Powder): 5:1 Extracts: Andrographis [Leaf], Shrubby Sophora [Root], Isatis [Root], 4:1 Extract: Elderberry [Fruit]. Clear Relief Complex (Equivalent to 1,872 mg of Herbal Powder: 5:1 Extract: Xanthium [Fruit], 4:1 Extracts: Yerba Santa [Leaf], Platycodon [Root], Horehound [Herb], Mullein [Herb], Iceland Moss [Lichen], Coptis [Rhizome], Chinese Lovage [Root], Chinese Licorice [Root], Peppermint [Leaf] Oil. Other Ingredients (Natural Mineral or Vegetable Source): Cellulose, Stearic Acid, Modified Cellulose, Silica, Hypromellose, Polydextrose, Titanium Dioxide, Talc, Maltodextrin, MCT, Riboflavin.
Suggested Use: Adults and children 10 years and older take 1 tablet 2 to 3 times per day during the cold weather season.
Keep out of reach of children. Consult a health care practitioner prior to use if you are pregnant, lactating, taking medication or have a medical condition.