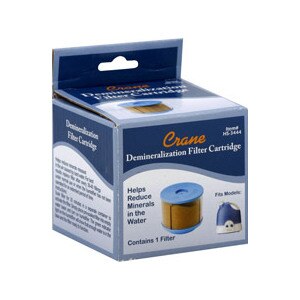 Crane Demineralization Filter Cartridge
Item HS-3444. Helps reduce minerals in the water. Helps reduce minerals released in the air caused by hard water. For best results replace filter after every 30-40 fillings under normal use or when the humidifier has not been operated for an extended period of time. Made in China.
Step 1: Before first use, soak filter for 30 minutes in separate container. Step 2: Place pre-soaked filter into humidifier water basin. Soak filter for 30 minutes in a separate container to activate the filter. Simply place pre-soaked filter into empty water basin and turn on humidifier. The green indicator light on the humidifier will show that enough water is in the base and the filter ready to function.