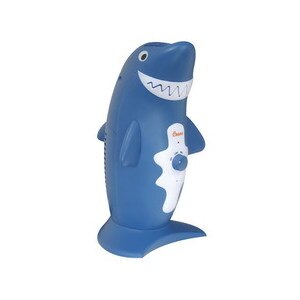 Crane Germicidal Shark Air Purifier
Allergens & bacteria remover with germicidal UV light. Germicidal UV light-new technology kills germs, viruses, bacteria & mold. 5 level filtration-for better breathing & sleeping. True HEPA protection-helps remove up to 99% of airborne allergens & germs such as: viruses, bacteria, mold, pollen, smoke, dust, per dander, household dust. Clean air delivery rate=AHAM certified. Reducing airborne allergen levels may decrease allergy & asthmatic symptoms. 3 step speed control-includes low speed setting for continuous quiet operation. Easy to change filters-easy access back cover to replace filter set(set includes particle filter, HEPA filter with attached carbon filter, and photocatalyst filter). Germicidal UV light-internal germicidal UV light effectively kills germs, viruses, bacteria and mold. Safety feature-air purifier includes tip over switch and auto-shut off function to ensure safety. This air cleaner is suggested for use in a single closed room up to 36 square feet. Tobacco smoke: 23.1; dust 28.5; pollen 28.2. These values represent performance that can be expected within the first 72 hours of operation. Subsequent performance may vary with use. ETL Listed.
This product is not a toy. This is an electrical home appliance.