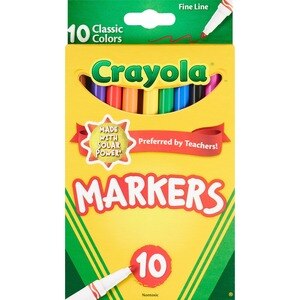 Crayola Markers Classic Colors
8 Non-Toxic Markers. Draw thin lines! For crafts and coloring. Made in USA.
Daring Doodles: 1) Draw a small design in the middle of your paper with fine line marker. 2) Draw a thin, continuous line (straight or wavy) around the outside edge of your design. 3) Repeat steps 1 and 2, using different colors and starting with different shapes, until you have a multi-colored drawing full of interesting lines and designs. 4) Cut around the outer edge of your design and glue it to dark construction paper. Safety guidelines recommend this art project is suitable for children age 4 years and older. The cutting edges of scissors are sharp and care should be taken whenever cutting or handling. Adult supervision is recommended.
Washing & Care Information: Stain Advisement: Crayola Markers contain colorants which may stain. Do not shake markers. Safety Information: Conforms to ASTM D-4236. Meets Performance Standard ANSI Z356.5. All Crayola art materials are Non-Toxic.