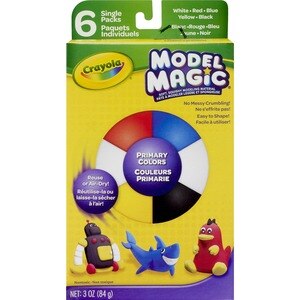 Crayola Modeling Material 6 Single Packs
Primary colors: red, yellow, blue, white x 2, black. Project booklet. Make lots of long lasting arts and crafts. Soft and pliable for easy use. Unique modeling material - lightweight even after drying. Clean handling, safe and non-toxic. Won't crumble or stick to skin and clothing. Air-dries in 24 hours. Available in many colors. Open just the amount needed. Personalize it; Create a lasting keepsake; Use small pieces of Model Magic to create mosaic tiles. Combine for a scene. Great for school projects. Mixing Colors: Knead the colors together until completely blended or stop mixing midway for a marvelous, marbled look. Mix white and any other color to create beautiful pastel shades. When dry, Crayola Model Magic modeling material can be colored with markers or paint. Cover cans and boxes, decorate with embedded objects. Impressive, lightweight mobiles are easy to make with Model Magic. Conforms to ASTM D-4236. Model Magic is certified AP Non-Toxic. All components made in USA.
Keep finish product away from open flame. Do not mold into candleholders or other like items for use around flame. Do not put in oven, microwave or kiln. Handling Information: Crayola Model Magic Modeling Material colors contain colorant which may stain. Note: For best results, use all of the Model Magic contained in a foil bag in one sitting. Crayola Model Magic is designed to dry completely in about 24 hours when exposed to air depending on thickness of piece. The foil bags are not intended to store product after opening. Do not allow product to freeze. Do not store product over 120 degrees F.