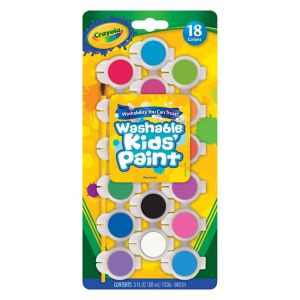 Crayola Washable Kid's Paint 18 Assorted Colors
Nontoxic. Washability you can trust! Crayola Washable Kids' Paint are formulated to easily wash from skin and most children's clothing. Crayola Washable Kids' Paint is a nontoxic, water-based paint for arts & crafts, posters, and school projects. Apply with brushes, sponges, stamps, stencils and more. Crayola Kids' Paint can be used on almost any surfaces, such as: construction, poster, and drawing paper; cardboard tubes and boxes; paper mache; and wood. Made in USA with brush from China.
Washing & Care Information: For best results: Crayola Washable Kids' Paints wash from skin and most washable children's clothing. Wash promptly in hot water cycle. Do not use pre-wash or chlorine bleach. Repeat laundering may be required. Stain Advisement: Keep away from wallpaper, painted walls, finishes and unfinished wood, vinyl, carpeting and other materials that cannot be laundered.