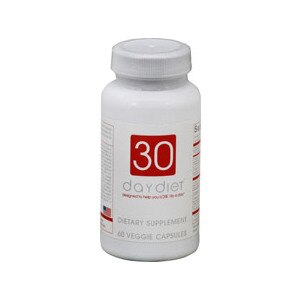 Creative Bioscience 30 Day Diet Veggie Capsules
You May Also Like
Size: 1 EA

$34.99
Dietary Supplement. Designed to help you lose 1 lb a day. (These statements have not been evaluated by the Food and Drug Administration. This product is not intended to diagnose, treat, cure, or prevent any disease.)
Designed to help you lose 1 lb a day
Clinically supported ingredients include Raspberry Ketones, African Mango, Lychee Fruit Extract, and Green Tea Extract-lose weight with a little help from Mother Nature
Take as a lifestyle aid without a special diet, or use with your restricted calorie program for more faster results
Easy to use: instructions, charts, and FREE unlimited 24/7 diet support with each purchase
Other Ingredients: Vegetable Capsules, Microcrystalline Cellulose, Magnesium Stearate.
As a dietary supplement, take 2 capsules 30 minutes before breakfast with a full glass of water. For best results drink plenty of water throughout the day. Do not exceed the recommended dose.
Not intended for use by persons under age 19. Do not exceed recommended dose. Do not consume synephrine or caffeine from other sources, including, but not limited to: coffee, tea, soda, and other dietary supplements or medications containing phenylephrine or caffeine. Contains caffeine. Do not use for more than 8 weeks. Consult with your physician prior to use if you are pregnant or nursing, or if you are taking medication including but not limited to, MAOI inhibitors, antidepressants, aspirin, non-steroidal anti-inflammatory drugs or products containing phenylephrine, ephedrine, pseudoephedrine, or other stimulants. Consult your physician prior to use if you have a medical condition, including but not limited to: heart, liver, kidney, or thyroid disease, psychiatric or epileptic disorders, difficulty urinating, diabetes, high blood pressure, cardiac arrhythmia, recurrent headaches, enlarged prostate, or glaucoma. Discontinue 2 weeks prior to surgery or if you experience rapid heartbeat, dizziness, severe headache, or shortness of breath.