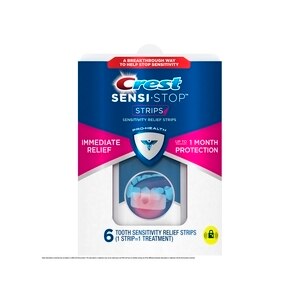 Crest Sensi-Stop Tooth Sensitivity Relief Strips, 6 Each
A Breakthrough Way To Help Sensitivity

Experience a scientific breakthrough to help stop your tooth sensitivity.
Improve your life in only 10 minutes.

What is it?
A new way to take care of your tooth sensitivity. Strips deliver the key ingredient for 10 minutes right where it is needed to provide sensitivity relief and up to 1 month protection.* See leaflet for more information.

Why choose sensitivity strips vs. sensitivity toothpaste?
Crest Sensi-Stop Strips are applied directly to sensitive areas, giving the key ingredient longer contact time against sensitivity pain for:
Immediate relief after only one strip
Long-lasting protection, up to 1 month*

*With the use of similar oxalate products, some patients reported sensitivity relief for periods of up to one month, while others reported relief for shorter periods.
Product Type:

Toothpaste

Formulation:

Strips

Quantity:

1-10 CT
1. Locate sensitive teeth
2. Apply gel side of the strip to cover outer gumline. Wear for 10 minutes.
3. Remove strip. Do not eat, rinse or brush for 30 minutes.

Easy to use Strip:
Apply a Crest Sensi-Stop Strip to cover outer gumline of sensitive teeth and wear for 10 minutes. If you have more than one sensitive area, apply a strip to each area. While people experience relief after using one strip, for additional relief, you may treat again - allow one day between uses. See leaflet for more information.
INTENDED USE
Crest Sensi-Stop Strips are intended to aid in the relief of dentinal sensitivity resulting from cold, heat, acids or sweets.

DO NOT USE THIS PRODUCT IF:
You suffer from bleeding gums or loose teeth
You have a history of kidney stones
You are pregnant or breastfeeding
You are under 18 years old

Store in a dry, cool place, away from direct sunlight and out of children's reach.