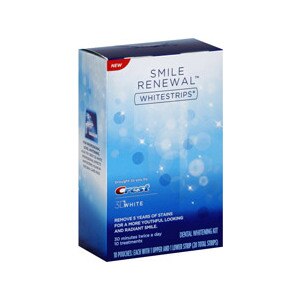 Crest Smile Renewal Whitestrips
10 pouches: each with 1 upper and 1 lower strip (20 total strips). Remove 5 years of stains for a more youthful looking and radiant smile. 10 Treatments. Brought to you by Crest 3D white. Why is this product right for you? Over time, daily activities such as drinking coffee, smoking, etc. can lead to discoloration of your teeth. Crest 3D White Smile Renewal Whitestrips helps you look younger and reduces one of the most noticeable signs of aging on your teeth by removing 5 years of stains hi just 5 days. Enamel safe.
PVP, PEG-8, Water, Hydrogen Peroxide, Acrylates Copolymer, Sodium Hydroxide, Sodium Saccharin.
30 minutes twice a day. 3 easy steps to a beautiful, whiter smile. 1. Peel. 2. Apply. 3. Reveal your whiter smile. Use twice a day for 30 minutes. Store in cool place.
Important Usage Information: Keep out of reach of young children. Product is not intended for use in children under the age of 12. Do not swallow plastic strip. Avoid eye contact. Rinse eyes thoroughly with water if gel comes in contact with them. Handle strips with dry hands. Gel that comes into contact with the skin can cause temporary skin irritation and/or whitening. Wash hands with soap and water after applying the strips. If you have dental work Crest 3D White Whitestrips will only whiten natural teeth. The strips will not whiten caps, crowns, veneers, fillings or dentures. Do not use with dental braces. If you are in need of dental work, have dental work or have staining from medication, ask your dentist to determine if whitening is appropriate. Crest 3D White Whitestrips Smile Renewal is designed to hold well to teeth. Do not use on loose teeth or temporary or loose restorations. Tooth Sensitivity & Gum Discomfort: Some people may experience tooth sensitivity or gum discomfort when using whitening products - this is temporary and not harmful. See insert for more information. Avoid contact of gel with cloth, leather or fabric.