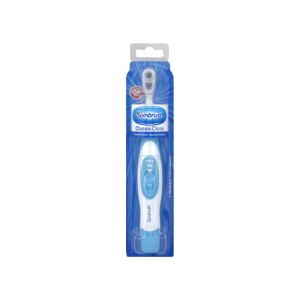 Arm & Hammer Spinbrush Classic Clean
Spinning head - multi-level bristles. Made in China.
Batteries are replaceable. To replace batteries: Pull down handle base. Replace with two new AA alkaline batteries only! Package Includes: 2 AA batteries. Operating: 1. Press & hold to turn on. 2. Or press & slide up for continuous action. 3. Brush your teeth as you normally do. 4. After every use, remove the brush head and rinse thoroughly. To remove, turn counterclockwise 90 degrees and pull away from handle. To reattach, slide on and turn clockwise 90 degrees until arrows are aligned. Important Information: Due to normal wear, it is recommended that this toothbrush be fully replaced after three months of use.
Children under 3 use under adult supervision. Do not submerge in water, the unit can be damaged.