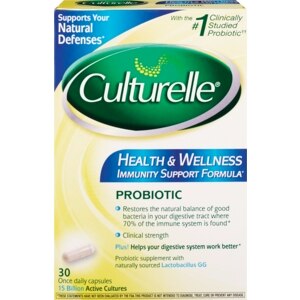 Culturelle Natural Health & Wellness Probiotic Supplement
Compare & Save
with CVS/pharmacy Brands
Size: 30 EA
(7)

$17.49

(58.3¢ / ea.)
Natural health & wellness. Supports your healthy immune system. Boosts digestion and overall digestive health. Restores the natural balance of good bacteria in your digestive tract. Certificate of Purity & Potency: Lactobacillus GG was discovered in 1985 at Tufts University in Boston, MA by Dr. Sherwood H. Gorbach and Dr. Barry R. Goldin. Considered to be the premiere probiotic in the world, Lactobacillus GG has been the subject of 300 scientific studies. Not all probiotics are the same; to provide the beneficial side effect, a probiotic must meet specified levels of purity and potency at time of use. The Gorbach Institute (GGI) has been established to assure that products meet these high standards. Only products carry the GGI seal have been certified as containing Lactobacillus GG that meets these high standards of purity and potency. Building a foundation for better core health. Protect your core health every day with Culturelle. Core health begins in the core of your body - the intestinal tract where 70% of your immune system resides. Diet, stress, travel and even some medications encourage bad bacteria to flourish in your intestinal tract. When bad bacteria overpower the good bacteria, your digestive and overall health is open to a host of concerns. Culturelle, with Lactobacillus GG, one of the most studied probiotics (good bacteria) safely and naturally replaces the bad bacteria in your digestive tract for strong core health - healthier digestion and a stronger immune system. Significantly more probiotic per capsule than in a serving of yogurt. Safe & appropriate for children of all ages. Gluten free. This statement has not been evaluated by the Food and Drug Administration. This product is not intended to diagnose, treat, cure, or prevent any disease.
Health Goals:

Probiotics & Digestive Health

Ship & Save:

Ship & Save Eligible
Other Ingredients: Microcrystalline Cellulose, Gelatin (Capsule).
Adults: As a dietary supplement, take one (1) capsule per day to strengthen your immune system while promoting digestive health. For Children of All Ages: Take one (1) capsule daily. Capsule may be opened and mixed into cool drink or food. Do not add to warm or hot foods or beverages. Consult your medical professional for more information. Storage: Refrigeration recommended but not required. Culturelle maintains potency best when refrigerated. Culturelle must not exceed 75 degrees Fahrenheit. Keep Culturelle in a cool, dry place away from direct sunlight.
Contains milk protein (Lactobacillus GG is grown on whey and will contain trace levels (less than 15 parts per million per capsule) of casein and whey, which are proteins found in milk.