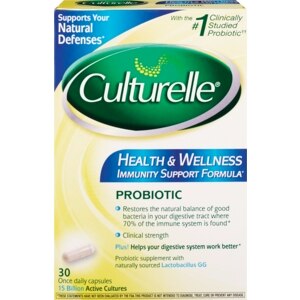 Culturelle Natural Health & Wellness Probiotic Supplement
Compare & Save
with CVS/pharmacy Brands
Size: 30 EA
(5)
25% off Probiotics
$13.12
$17.49
Active Ingredient: Lactobacillus GG (10 Billion Cells per Serving). Other ingredients: Microcrystalline Cellulose, Gelatin (Capsule).
Suggested Use: As a dietary supplement, take one (1) capsule per day to strengthen your immune system while promoting digestive health. Infants and Children: Take one (1) capsule daily. Capsule may be opened and mixed into a cool drink or food. Do not add to warm or hot foods or beverages. Consult your medical professional for more information. Store at room temperature. Do not expose to excessive heat, humidity or direct sunlight. Do not store above room temperature. Refrigeration is not required, but will ensure maximum potency and shelf life.
Contains milk proteins [lactobacillus GG is grown on whey and will contain trace levels (less than 15 parts per million per capsule) of casein and whey, which are proteins found in milk].