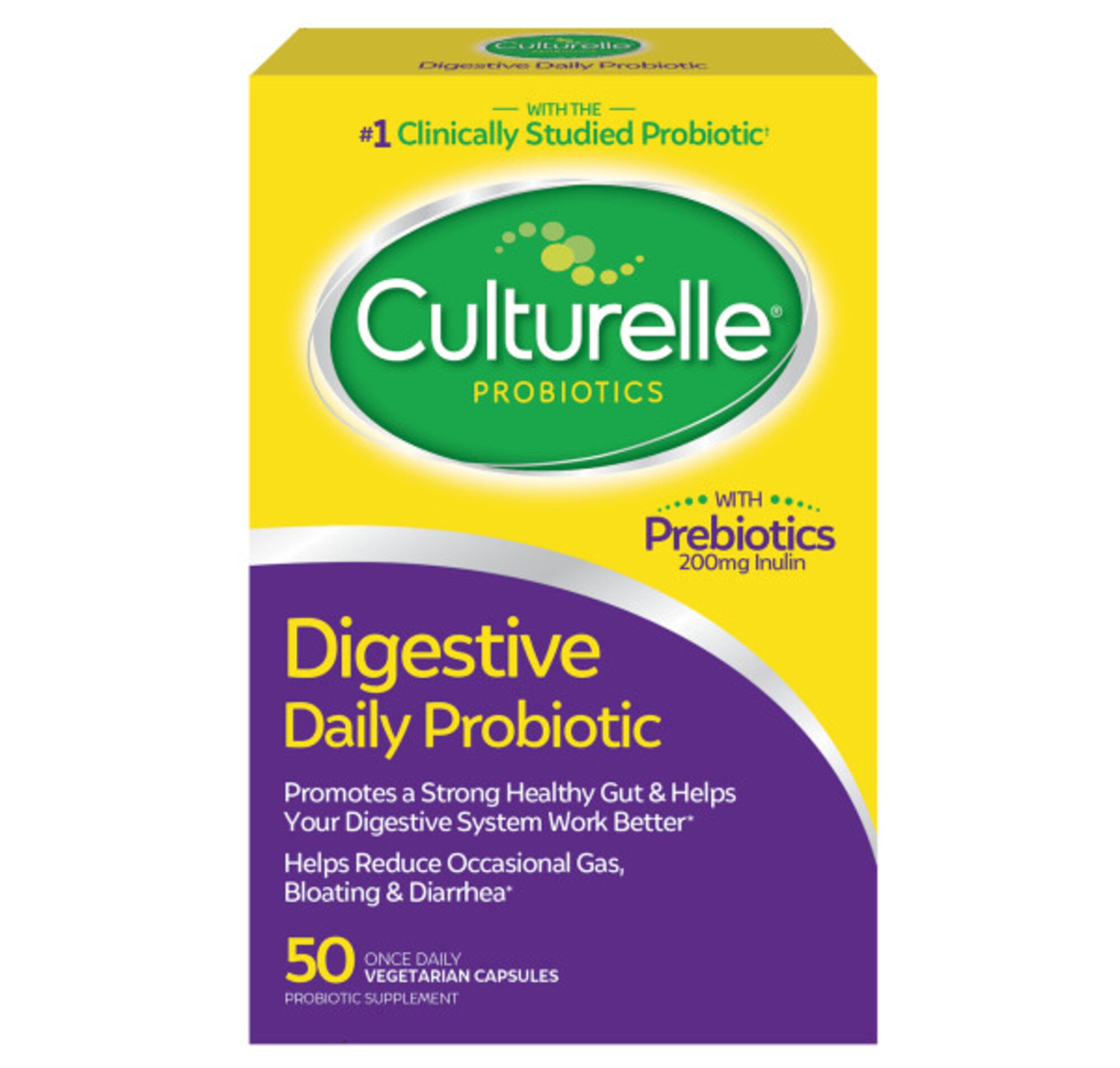 Culturelle Once Daily Probiotic Capsules
Compare & Save
with CVS/pharmacy Brands
Size: 60 EA

$29.99

(50.0¢ / ea.)
With the No. 1 clinically studied probiotic (based on the number of lactobacillus GG clinical studies, as of June 2012). Restores the natural balance of good bacteria in your digestive tract. Helps your digestive system work better. Helps reduce your digestive upset. Helps with occasional diarrhea. Helps with gas and bloating. Plus! Supports your immune system. Probiotic supplement with naturally sourced lactobacillus GG. 10 billion active cultures. When the natural balance of good and non-beneficial bacteria in your intestinal tract is disturbed, your digestive health is open to a host of potential concerns. Culturelle with probiotic lactobacillus GG, the most clinically studied probiotic, and inulin a prebiotic, naturally replaces the non-beneficial bacteria, returning healthy balance to your intestinal tract. Take Culturelle daily to: help boost digestion and overall health; help reduce the likelihood of gas and bloating; help support the immune system and general well-being; help minimize travel associated stomach and digestive issues. Culturelle is safe for everyday, long-term use. World's most research probiotic. Contains none of the following: synthetic colors, preservatives, dairy, yeast, wheat, gluten or lactose. www.Culturelle.com. Good Housekeeping. Guarantee of purity & potency: the lactobacillus GG strain was discovered in 1985 at Tufts University in Boston, MA. Considered the premier probiotic in the world, lactobacillus GG has been the subject of over 700 scientific studies. Culturelle is the only brand with 100% lactobacillus GG. We certify that our products meet the highest standards of purity and potency. Unlike some products which measure the number of probiotic cultures at time of manufacture, Culturelle guarantees the stated number of live naturally-sourced lactobacillus GG cultures through the expiration date on the box. Trust your gut to Culturelle. (These statements have not been evaluated by the FDA. This product is not intended to diagnose, treat, cure or prevent any disease.) Country of origin: USA.
Ship & Save:

Ship & Save Eligible
Other Ingredients: Gelatin (Capsule), Vegetable Magnesium Stearate, Silica and Titanium Dioxide (Color).
Suggested Use for Adults: As a dietary supplement, take one (1) capsule per day to support digestive and immune health. Continued daily use is suggested. If experiencing digestive upset, two (2) capsules daily are recommended until discomfort subsides. When traveling, take two (2) capsules daily throughout the trip. Best results if started two to three days prior to travel. For Children Over 1 Year of Age: Take one (1) capsule daily. Capsule may be opened and mixed into cool drink or food. Do not add to warm or hot foods or beverages. Consult your medical professional for more information. Guaranteed potency through date on box when stored according to instructions below. Storage: Store Culturelle in a cool, dry place away from direct sunlight. Culturelle must not exceed 75 degrees Fahrenheit.
This product is intended for use under adult supervision only. Keep out of reach of children. Not intended for children under 1 year of age. This product should not be used by those with immune problems unless directed by a physician.