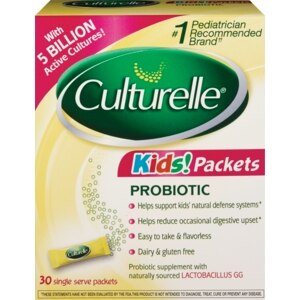 Culturelle Probiotics for Kids Dairy Free Formula Packets
More probiotic. No. 1 Pediatrician recommended brand (Based on a 2010 survey among pediatricians recommending a probiotic brand). Helps support kids' natural defense system. Helps reduce occasional digestive upset. Easy to take & flavorless. Dairy & gluten free. Probiotic supplement with naturally sourced lactobacillus GG. Certificate of Purity & Potency: Lactobacillus GG was discovered in 1985 at Tufts University in Boston, MA by Dr. Sherwood H. Gorbach and Dr. Barry R. Goldin. Considered to be the premier probiotic in the world, lactobacillus GG has been the subject of over 400 scientific studies. Not all probiotics are the same; to provide a beneficial effect, a probiotic must meet specified levels of purity and potency at time of use. The Gorbach Goldin Institute (GGI) has been established to assure that products meet these high standards. Only products that carry the GGI seal have been certified as containing lactobacillus GG that meets these high standards of purity and potency. Gorbach-Goldin Institute - Lactobacillus CC certified for purity & potency. Good Housekeeping since 1909. Limited warranty to consumers. Supporting kids' natural defense systems is important to promoting their overall health as well as helping to alleviate occasional digestive distress. Culturelle Kids Packets support a child's health by fostering the proper balance between good bacteria and the non-beneficial bacteria that resides in the gastrointestinal tract. Culturelle Kids Packets contain lactobacillus GG, one of the most widely studied probiotic strains. It is demonstrated to survive harsh stomach acids to get where it's needed most in the intestines and is recognized as safe for regular use. Research has shown that lactobacillus GG alleviates occasional digestive distress while supporting a child's natural defenses. World's most researched probiotic. Contains none of the following: synthetic colors, preservatives, dairy, yeast, wheat, gluten or lactose. Lactobacillus GG: 1.5 billion cells (Guaranteed potency through date on box when stored according to instructions.) To report an adverse event, www.Culturelle.com. (These statements have not been evaluated by the FDA. This product is not intended to diagnose, treat, cure or prevent any disease.) Made in Denmark.
Health Goals:

Probiotics & Digestive Health

Ship & Save:

Ship & Save Eligible
Other Ingredients: Mannitol, Inulin, Silicon Dioxide.
Suggested Use: For Children 25 to 50 lbs: Empty entire contents of one (1) packet into cool food or drink. Mix until dissolved. Do not add to warm or hot food or beverage. Take one (1) packet daily to support digestive and immune health. To alleviate occasional digestive distress, take up to seven (7) packets per day. When using more than 1 packet, take at regular intervals throughout the day. If conditions persist, consult your physician. For Children Over 50 lbs: Take Culturelle Kids Probiotic Chewables as directed on package. For Children Over 100 lbs: Take Culturelle Digestive Health Probiotic capsules as directed on package. Storage: Store Culturelle in a cool, dry place away from direct sunlight. Culturelle must not exceed 75 degrees Fahrenheit.
This product is intended for use under adult supervision only. Keep out of reach of children. not intended for children under 1 year of age. This product should not be sued by those with immune problems unless directed as a physician.