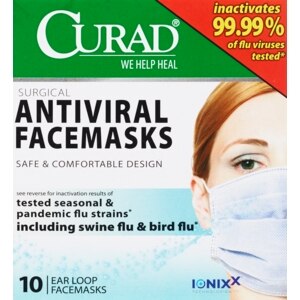 We help heal. Tested seasonal & pandemic flu strains including swine flu & bird flu. Correlation between in-vitro testing results and any clinical event has not been tested. No clinical studies have been conducted comparing the ability of an untreated facemask and these facemasks to protect the wearer from influenza infection. They are intended to be worn by operating room personnel during surgical procedures, to protect both the surgical patient, and the operating room personnel, from the transfer of micro-organisms, body fluids and particulate material. Disposable - Single use only.
How it Works: The BioMask has a hydrophilic plastic coating that rapidly absorbs aerosol droplets away from the outer surface of the mask. The first and second layers of the mask are treated with different compounds that inactivate influenza viruses. High barrier surgical facemask. Meets ASTM F2100-07 standard. Powered by BioFriend technology. Pragmatic. Scientific. Patented. Innovation by Filligent.
Fitting: Prior to Use: Check condition of mask. If visibly damaged, discard mask. 1. Put loops around ears. 2. Adjust mask over nose & under chin. 3. Press forefingers down on both sides of nose. 4. check for snug fit and comfort. Replace if damaged or soiled with blood or other bodily fluids. Discard mask after each use. Store between -20 & +35 degrees C. Relative humidity less than 85%.
This mask does not eliminate the risk of contracting any disease or infection. Replace if damaged or soiled with blood or other bodily fluids. Do not use if hypersensitive to copper or zinc. This mask does not contain natural rubber latex. For use in medical settings only. If mask becomes soiled, please change to a new mask as the antimicrobial agents may not be effective. For adult use only.