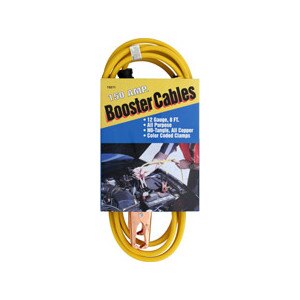 Custom Accessories Booster Cables 150 Amp
12 Gauge, 8 ft. All purpose. No-tangle, all copper. Color coded clamps. Made in China.
Battery Cable Hook-Up: 1. Battery vent caps must be tight and level. Make sure vehicles are not touching. Make sure both electrical systems are the same voltage. If battery fluid is frozen do not jump start. 2. Clamp positive end of the jumper cable to the dead battery's positive terminal which is wired to the starter or solenoid. Make sure the positive cable clamps do not touch any other metal than the battery terminals during hook-up. 3. Clamp the opposite end of the positive to the positive terminal of the live battery. 4. Clamp the negative cable end to the negative terminal of the live battery. 5. Clamp the opposite end of the negative cable to a metal area on the engine block that is away from the battery, carburetor, fuel line or any moveable parts. Do not clamp to negative post of dead battery. 6. Move away from vehicles and start the car with the live battery. Now start the stalled vehicle. 7. Disconnect cables from both vehicles in reverse order with the cable connected to the engine block.
When near jump-start area wear safety glasses and do not smoke. Explosive gases contained in batteries. Avoid serious danger by refraining from smoking and by keeping any flames or sparks away from charging area. Wear eye protection. Do not lean over batteries when they are being charged. Consult your owners manual for pertinent information.