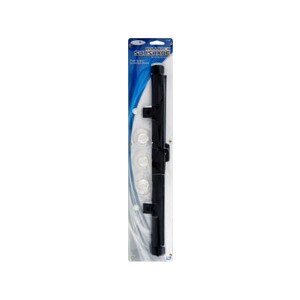 Custom Accessories Rollback Sunshade
Push button to retract shade. Auto accessories for today's lifestyle. Special Features of this Product: 14 x 19 inch shade with optional suction cup attachment; pull down on shade, shade stops at any increment; protects from sun glare; for back & side windows. Made in Taiwan.
Side Windows: 1. Partially roll down window and clip sunshade over edge. 2. Roll window up. Pull shade down to desired position. Shade will stay in this position. You may want to attach a suction cup to pull tab to prevent rattling. Rear or Stationary Windows: 1. Clean window and suction cup surface. 2. Attach suction cups to roller assembly by sliding into each clip (A & B). 3. Attach third suction cup to bottom tab by pushing small end through hole (C). For Retraction: 1. Hold button on the side of the roller assembly to retract sunshade.