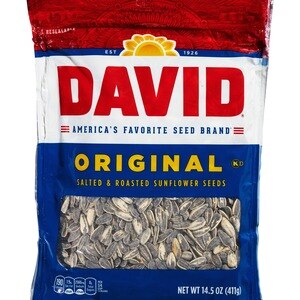 David Original Roasted & Salted Sunflower Seeds
All natural. Congratulations! You're a seeder! Seeders are unique. They're cool, confident, independent, active, and hard working. They know that eating David sunflower seeds makes what they do more enjoyable. Things are better with David because they're a snack and an activity. Experience Snacktivity. How to eat David seeds. Crack the shell with your teeth, eat the seed and spit the shell. Experienced seeders pop a handful of seeds in their mouth and store them in one cheek, then transfer a seed over to the other side with their tongue, crack it, then eat the seed and spit the shell. David - eat. Spit. Be happy. David seeds are a great value and are good for you! Excellent source of vitamin E (an antioxidant), phosphorus and magnesium. Natural source of fiber, zinc, and folic acid. 9 grams of protein per serving. Naturally cholesterol free. Thank you for selecting David & sons. Perfecting the art of roasting since 1926.
Sunflower Seeds and Salt.
Refrigerate after opening to prolong freshness.
Kids Safety: While sunflower seeds are a healthful and delicious snacking choice, they are never recommended for infants or toddlers, as the seeds can pose a choking threat to their safety.