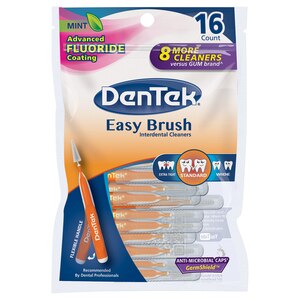 DenTek Easy Brush Standard, 16CT
Standard 2.2-3.8 mm taper. Recommended by dental professionals. Standard spaces. Deep clean. Trouble spots. Flexible handle. Non-slip flexible handle for comfort and control. All DenTek Interdental Cleaners: remove food; reduce tooth decay; remove plaque; fight bad breath. Makes flossing easy. Deep cleaning; Trouble spots; Braces; Bridges. Visit us! www.DenTek.com. Like us! Facebook.com/DenTek. YouTube. Don't be a litterbug! Made in Vietnam.
Quantity:

11-20 CT

Primary Flavor:

Mint
Insert brush with Comfort Wire between teeth. Use gentle to and from motion.
Do not force. Under the age of 10 requires adult supervision.