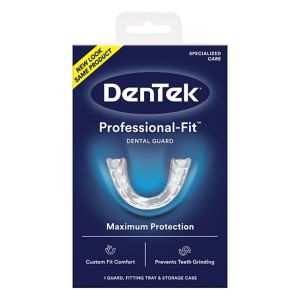 DenTek Professional Fit Dental Guard For Nighttime, Maximum Protection
Kit includes: 1 dental guard; 1 forming tray, and 1 storage case. For nighttime teeth grinding (bruxism). Maximum protection. Custom form your guard. Perfect fit. Comfortable protection. 1 year protection guarantee. Includes case! Disposable forming tray. Always been BPA free. Fits upper teeth. DenTek Dental Guard: snugly molds to teeth; secure fit; high retention; 25% less bulky. Other Dental Guards: loosely mold to teeth; poor fit; low retention; bulky. Don't be a litterbug! Made in USA.
Product Type:

Mouth Guards

Quantity:

1-10 CT
1. Boil. 2. Form. 3. Wear. Complete fitting instructions are inside the package.
Do Not Use: as a sports mouthpiece (The product is designed to absorb top-to-bottom pressure not shock absorption); if you are under 18 years of age; for more than three months without consulting your dentist; if you have loose teeth or teeth that can wiggle; if your dentist has told you that you have temporomandibular joint (TMJ) pain or clicking of the jaw; if you have any pain from teeth grinding, or other forms of tooth or jaw pain; if you have dental implants, or wear dentures, braces or other dental appliances. Ask a dentist before use if you have: major health problems or serious breathing or respiratory conditions; oral sores, bleeding gums or any gum disease; cavities that have no fillings, or loose fillings or caps; difficulty chewing or pain of the jaw, teeth or face; two or more missing teeth. Stop use and ask a dentist if: you develop soreness, bleeding gums or any other reaction inside your mouth; you develop jaw pain, teeth pain, ear pain, headache, neck stiffness, or joint clicking when using this product; the same symptoms persist after over a month of use; the product falls out of your mouth easily; the product disrupts breathing, feels uncomfortable or causes you to gag; you have a change in your bite that persists more than a few minutes after removing the product. See your dentist every six months.