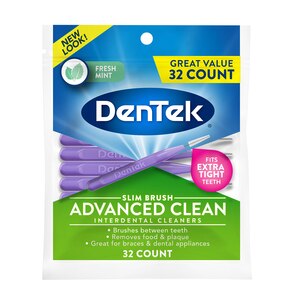 DenTek Slim Brush Ultra Thin Tapered Cleaners
Great value. Deep cleaning. Tight teeth. Flossing made easy. Makes flossing easy. Deep cleaning. Tight teeth. All DenTek Cleaners: Remove food; Fight bad breath; Reduce tooth decay; Remove plaque. www.DenTek.com. Don't be a litterbug! Made in India.
Insert brush between teeth and use a gentle back and forth motion to remove food and plaque. Handle bends for comfort and control.
Do not force. Under the age of 10 requires adult supervision.