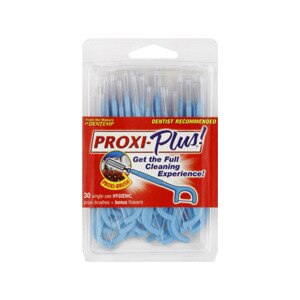 Dentemp Proxi-Plus Proxi Brushes Plus Flossers
Single-use hygienic proxi-brushes + bonus flossers. Get the full cleaning experience! Dentist recommended. For healthier teeth & gums. Daily use helps fight bad breath and gingivitis! Mfd in China (NP) to the exact specifications of Majestic Drug Co., Inc.
Proxi-Brush: Use brush end for cleaning plaque and removing food between teeth. Excellent around bridgework and braces. To use the proxi-brush insert the brush between teeth and use a gentle motion. Do not force brush into small spaces. Flossing: Gently move floss up and down against each tooth. Clean between the gum line to remove bacterial plaque.