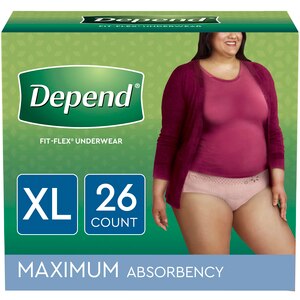 Depend For Women Maximum Absorbency Underwear XL
48-64 inch waist. Bonus +2. New Peach Color. Trusted protection. Size: XL. Waist: 48-64 inches. Hips: 48-64 inches. Weight: 200-300 lbs. Product: Underwear. Gender: Women. Description: Protective underwear made just for a woman. Absorbency: Maximum. Smooth fitting, underwear-like waistband. Maximum absorbency where a woman needs it most. Outstanding protection designed specifically for a woman's body. Easy to use - just pull on and off. Worry-free odor control. Soft, quiet, breathable. Made in the USA from domestic and imported materials.
Product Type:

Protective Underwear

Quantity:

21-30 CT

Gender:

Women, Female

Absorbency:

Maximum

Size:

X-Large, L/XL
Step in/slip off. Look for the pink oval below the pink waistband - the oval indicates the back. Step in and pull on to wear just like regular underwear. To remove, slip off like regular underwear. Dispose of in trash can. Do not flush.
To avoid risk of suffocation, please keep plastic bags away from Infants and children. Like most articles of clothing, underwear can burn if exposed to flame or other source of ignition. Bladder and bowel incontinence may be caused by a condition that can be medically treated. Please see your doctor for professional advice.