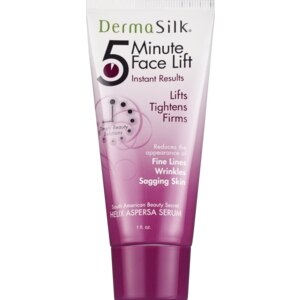 DermaSilk 5 Minute Face Lift Helix Aspersa Serum
Instant results. Lifts. Tightens. Firms. Reduces the appearance of: fine lines; wrinkles; sagging skin. South American beauty secret. Helix aspersa serum. The Results: From the moment you apply DermaSilk 5 Minute Face Lift, you'll experience something you have never felt before. Within seconds, you'll feel your skin tightening and firming. Enjoy this moment knowing you're doing something wonderful for your appearance. A face lift without invasive surgery. DermaSilk 5 Minute Face Lift is a completely revolutionary skin care product shown to render the appearance of lifted, younger-looking skin, quickly and effectively. DermaSilk 5 Minute Face Lift contains a remarkable combination of active substances that will make your skin's appearance smoother, firmer, and more youthful. Dramatic results fast. DermaSilk 5 Minute Face Lift has a dramatic flash effect that lifts and tightens sagging, aging skin. It is formulated to deliver visible results while also providing significant benefits at the epidermis. The result is powerful: Triple action firming with anti-aging technology. Skin tightening begins soon after application creating the appearance of tighter, firmer, more youthful looking skin. The DermaSilk 5 Minute Face Lift triple-lifting complex difference: firmer facial contours; reduced appearance of wrinkles and fine lines; reduced appearance of sagging skin on the face, neck, and chin; an overall more youthful lifted appearance. www.dermasilk.org.
Purified Water, Soy Protein Phthalate, Soluble Collagen, Dipalmitoyl Hydroxyproline, Algae Extract (Nannochloropis Oculata) and Pullulan, Glycerin, Phenoxyethanol, Allantoin, Carbomer, Ethylhexylglycerin, Tocopheryl Acetate, Helix Aspersa Secretion.
After thoroughly cleansing and drying the face, pump one or two full pumps of the serum onto your fingertips. Spread evenly over your face, neck, and decolletage and allow to dry. Repeat these steps morning and evening, as needed, before applying moisturizing cream, makeup, or night repairing face lift. Note: Airless pump system may need to be primed by pressing the pump a few times to expel excess air.