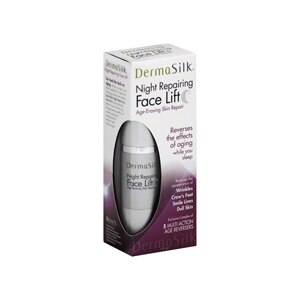 DermaSilk Night Repairing Face Lift Age-Erasing Skin Repair
Age-erasing skin repair. Reverses the effects of again while you sleep. Reduced the appearance of: wrinkles; crow's feet; smile lines; dull skin. Exclusive complex of 5 multi-action age reversers. Turn back the clock on aging. While you sleep, your body's production of important anti-aging compounds peaks. DermaSilk Night Repairing Face Lift's formula absorbs deep into skin, enhancing the age-reversing effects of naturally produced compounds that help skin look years younger. Enhance your skin's nighttime, anti-aging powers. During the sleeping hours, your skin is hard at work generating new cells to replace those damaged by the sun's ultraviolet rays, dehydration, stress, and countless other factors that contribute to premature aging of the skin. While you sleep, your body's natural 24-hour anti-aging cycle increases blood flow through the skin and speeds skin cell renewal. This increased circulation helps skin absorb DermaSilk Night Repairing Face Lift and its age-reversing complex more easily and deeply to maximize skin regenerating action each night. Delivers 5 key anti-aging ingredients. DermaSilk Night Repairing Face Lift delivers a regenerating anti-aging complex designed to reverse the effects of aging while you sleep. Hyaluronic acid spheres penetrate, hydrate, and plump even the deepest skin layers for maximum effectiveness. GABA (gamma amino butyric acid) acts as an infection-free alternative to help naturally reduce the appearance of lines and wrinkles. Melatonin supplements the body's natural level of this essential hormone, which decreases with age, to help the skin relax and erase signs of aging. Triple-action antioxidant complex combines powerful age-reversing antioxidants to dramatically increase their effectiveness in fighting skin-damaging free radicals, diminishing the appearance of skin damage, and restoring a youthful appearance. Argireline (Argireline is a registered trademark of Lipotec, S.A) is a unique new peptide that both reduces the appearance of existing facial wrinkles and has been demonstrated effective against their development. This complex relaxes crease memory and offers long-term relief from visible laugh lines and crow's feet. Combine with DermaSilk 5 Minute Face Lift for Day & Night Skin Repair. Maximize your fight against aging skin by using both of these anti-aging products. They work brilliantly together, enabling 24-hour skin repair and lift. www.dermasilk.org.
Purified Water, Aloe Vera Gel, Glycerin, Magnesium Ascorbyl Phosphate, Emulsifying Wax N.F., Sunflower Seed Oil, Octyl Palmitate, Acetyl Hexapeptide-8, Glyceryl Stearate, Cetearyl Alcohol, Stearic Acid, Glyceryl Monolaurate, Cyclopentasiloxane (and) Water (and) Polysilicone-11 (and) Aminobutyric acid (and) Barium Sulfate (and) Panax Ginseng Extract (and) Portulaca Oleracea Extract (and) Centella Asiatica Extract, Tocopherol Acetate, Phenoxyethanol, Olive Squalane, Dimethicone, Melatonin, Lemon Bioflavonoids, Benzyl Alcohol, Soy Lecithin, Panthenol, Hyaluronic Acid, Mixed Tocopherols, Green Tea Extract, Allantoin, Cocoa Butter, Ethylhexylglycerin, Flax Seed Oil, Borage Seed Oil, Rosehip Seed Oil, Ethylbisiminomethylguaiacol Manganese Chloride, Sweet Almond Oil.
For best results, apply DermaSilk Night Repairing Face Lift to clean, dry skin before bedtime. Smooth 2-3 pumps gently over face and neck, allowing it to thoroughly absorb overnight. Note: Airless pump system may need to be primed by pressing the pump a few times to expel excess air.