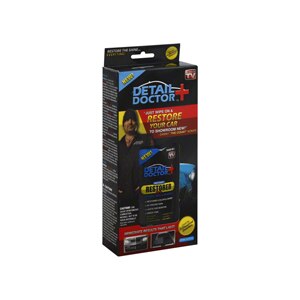 Detail Doctor Vinyl, Leather & Plastic Restorer
For leather, vinyl & plastic. Restores color & shine. UV protection. Lasts for months. Great for: bed liners; mirror covers; bumpers; moldings; running boards; and more! Restore the shine - everytime! Used by professional detailers. As seen on TV. Just wipe on & restore your car to showroom new - Danny - The Count - Koker! Immediate results that last! Using Detail Doctor: Detail Doctor is the best product on the market for exterior vinyl trim/molding rejuvenation. Detail Doctor Works on: cars, trucks, SUV's, RV's, boats, motorcycles, personal watercraft and outdoor vinyl signs. Where to use Detail Doctor: Exterior molding and trim on your vehicle, door handles, side cladding, front and rear bumpers, exterior mirrors, moldings, auto trim, graphics, running boards, steps and bed liners. Detail Doctor is not recommended for interior surfaces other than vinyl and leather seating. Note: Do not use Detail Doctor on steering wheels or dash boards. Other Uses for Detail Doctor: Hard plastic surfaces, side plastic trim between window glass & areas such as grill and front bumper. Rubber molding around exterior windows, trim and/or accents. If in doubt where to use, test a small section first. Mirror covers; Leather/vinyl; Headlights; Trim. Proudly made in the USA.
Shake well. Surface prep or removal of dried Detail Doctor - Wash and dry surface thoroughly. You may use isopropyl alcohol or lacquer thinner to remove any dirt and/or previous dressings or coatings. We suggest you pre-test all cleaner products in a small inconspicuous area first. Rewax painted surfaces if needed. Then follow directions below: Please Note: Detail Doctor will work on most vinyl surfaces unless they have been physically damaged or previously painted. It's important for Detail Doctor to absorb into the vinyl. Allow to dry or cure for 2-4 hours before getting wet or washing. If it is not allowed to dry, water may cause minor streaking. If this should happen, just reapply where needed. A second coat may also be applied if needed. Please Note: The Detail Doctor scent will dissipate after it dries thoroughly, generally 24 hours. Shake bottle well before and during application to ensure the best performance. Make sure vinyl surfaces are clean and dry before application. Apply a small amount of Detail Doctor straight from the bottle onto your applicator. Rub in a circular motion then finish going in another direction, i.e., right to left then up and down. This ensures a thin, even finish. Follow instructions for cleanup. Clean Up: Important - Detail Doctor contains linseed oil, which generates heat as it dries and can cause spontaneous combustion of cloths, rags, paper towels, or other materials used to apply this product, if not handled properly.
Can cause spontaneous combustion. Inedible. Not to be taken internally. Use Extreme Caution with Materials After Use: Immediately after use and before disposal or storage, you must hand wash all materials used to apply the product thoroughly with water and detergent. Repeat washing and rinsing until you have removed all product residue. Allow materials to dry thoroughly by laying them flat in a single layer in any airy spot outside on a non-combustible surface, such as concrete. To avoid spontaneous combustion of materials that are not thoroughly washed as instructed, immediately after use, place materials used to apply the product in a water-filled, closed metal container. Never crumple or stack materials. Never place materials in an open, non-metal container or sealed bag.