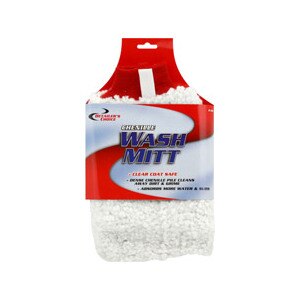 Detailer's Choice Chenille Wash Mitt
Clear coat safe. Dense chenille pile cleans away dirt & grime. Absorbs more water & suds. Give your car that professionally detailed look. Chenille Wash Mitt: Made of soft chenille pile, the Chenille Wash Mitt washes without scratching. Safe for all surfaces. The chenille pile is sewn to an elastic wristband. The elastic wristband fits snugly around the wrist keeping the mitt secure. Use dry for polishing chrome areas and dusting the exterior and interior of your car. Made in China.
Recommended Care: For best results, dampen before use. After using, rinse thoroughly with warm water. Squeeze out excess water. Air dry. Store dry. Shake well to loosen fibers.