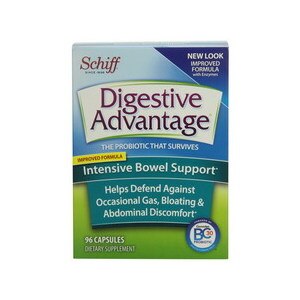 Digestive Advantage Ibs Capsules
Dietary Supplement. For daily digestive fitness. Take every day. Helps defend against occasional digestive upsets such as gas, bloating, and diarrhea. Powered by Ganeden BC30 probiotic. Digestive & immune health. Digestive Advantage Intensive Bowel Support could be your best friend - providing friendly Ganeden BC30 probiotics to help support your digestive system and assurance that you are doing a good thing for your digestive and overall health. As a daily supplement to a balanced diet, Digestive Advantage Intensive Bowel Support is designed to help give you digestive confidence. Digestive Advantage Intensive Bowel Support contains friendly Ganeden bc30 probiotics, which clinical trials show help defend against occasional digestive upsets such as gas, bloating, and diarrhea Studies show that Ganeden BC30 breaks down complex carbohydrates that, if undigested, may trigger or worsen certain digestive upsets. Lactose free. (These statements have not been evaluated by the Food and Drug Administration. This product is not intended to diagnose, treat, cure or prevent any disease.)
Other Ingredients: Microcrystalline Cellulose, Vegetarian Capsule Shell (Hypromellose, Water, Titanium Dioxide (Color), Caramel (Color)), Magnesium Stearate, Silicon Dioxide.
Adults: Take one capsule daily with water. Some adults may require two capsules for best digestive support. Capsule may be opened and contents sprinkled into food or drink. Children: For children it is recommended that one capsule be opened and contents mixed into a cold drink, oatmeal, applesauce or other food. Consult your pediatrician for further information. Upon initial use, it may take 7 to 14 days for you to feel the product working. consistent daily use is needed to maintain results. some gas and bloating may occur during the first few days as your system adjusts to the friendly probiotics. Do not stop taking current medications prior to discussing with your physician. Parental supervision is required for use by children. Keep out of the reach of children. Although antibiotics may reduce the effectiveness of this product, continue to use daily while you are taking antibiotics. Keep product in a cool, dry place. Lactose free.
Allergy Warning: This product may contain trace amounts of casein (milk protein) and soy.