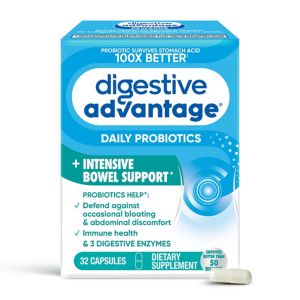 Digestive Advantage Intensive Bowel Support
Dietary Supplement. The probiotic that survives. Improved formula with enzymes. Helps defend against occasional gas, bloating & abdominal discomfort. Powered by Ganeden BC30 probiotic digestive & immune health. Since 1936. Now with a blend of enzymes to help break down foods and promote healthy digestion. Schiff Digestive Advantage targets your specific digestive health needs and, with continued use, gives you long-term digestive support. That's because Digestive Advantage contains BC30, a natural probiotic that survives 10X better than yogurt to deliver good bacteria where you need it (based on median % survivability of Digestive Advantage vs. probiotic supplements and 20 probiotic yogurts in stimulated gastric pH for 2 hours. Survivability and delivery of probiotic cells to the small & large intestines is one of several factors influencing overall product effect). Digestive Advantage Intensive Bowel Support defends against occasional gas, bloating, abdominal discomfort and diarrhea. Studies show that BC30 probiotics and digestive enzymes break down protein, carbohydrates and fats to aid the digestive process. Probiotics are beneficial bacteria that live in your digestive tract and promote digestive and immune health. Other probiotics don't survive the hard acidic stomach environment. Because Digestive Advantage Intensive Bowel Support reaches your intestines alive, it is able to provide digestive and immune health benefits where you need them. Enjoy the Benefits: Helps defend against gas, bloating and occasional diarrhea; Relieves occasional abdominal discomfort; Promotes long-term digestive health with continued use; Just one capsule daily. Survives 10X better (based on median % survivability of Digestive Advantage vs. probiotic supplements and 20 probiotic yogurts in stimulated gastric pH for 2 hours. Survivability and delivery of probiotic cells to the small & large intestines is one of several factors influencing overall product effect). Studies reveal that the single strain of probiotic used in Schiff Digestive Advantage survives 10X better than other probiotics and yogurts to deliver good bacteria where you need it (based on median % survivability of Digestive Advantage vs. probiotic supplements and 20 probiotic yogurts in stimulated gastric pH for 2 hours. Survivability and delivery of probiotic cells to the small & large intestines is one of several factors influencing overall product effect). Schiff quality guarantee. Guaranteed: no added sugar (sucrose, fructose, lactose), salt (sodium chloride) or yeast. No preservatives or artificial flavors. Guaranteed for purity, freshness and labeled potency. www.DigestiveAdvantage.com. (These statements have not been evaluated by the Food and Drug Administration. This product is not intended to diagnose, treat, cure or prevent any disease.)
Health Goals:

Probiotics & Digestive Health

Ship & Save:

Ship & Save Eligible
Other Ingredients: Maltodextrin, Hypromellose, Microcrystalline Cellulose, Stearic Acid, Water, Dextrin, Titanium Dioxide, Silicon Dioxide, Magnesium Stearate, Caramel Color.
Adults: Take one capsule daily with water. Some adults may benefit from taking two or more capsules daily. Children 8 Years & Over: For children it is recommended that one capsule be opened and contents mixed into food or drink. Upon initial use, it may take 7 to 14 days for you to feel the product working. Consistent, daily use is needed to maintain results. No refrigeration necessary.
Contains wheat and soy. Always consult your pediatrician before giving your child dietary supplements. Note: If pregnant, lactating or on prescribed medication, consult your physician before using. Keep out of reach of children. Store in a cool, dry place.