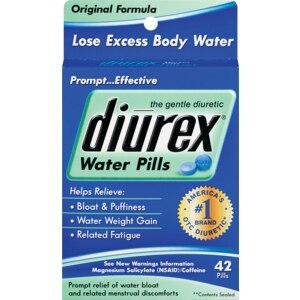 Diurex Original Formula Water Pills
Other Information: Magnesium Content: 10 mg/pill, calcium content: 10 mg/pill. Contents Sealed: Each Diurex blue colored, round shaped pill bears the identifying mark Alva and is sealed in a clear plastic blister with a foil backing. Do not use if seal appears broken or if product contents do not match product description. You may report serious side effects to the phone number provided: 1-800-792-2582. Misc: Lose excess water weight. Prompt - effective. The gentle diuretic. Helps Relieve: water weight gain; bloat & puffiness; related fatigue. Magnesium salicylate (NSAID)/caffeine. America's No. 1 brand OTC diuretic (Based on independent syndicated market research data). Prompt relief of water bloat and related menstrual discomforts. The bloat medicine. The active ingredients in Diurex water pills have been recognized to be safe and effective by an FDA expert advisory panel when used as directed. www.diurex.com. Gluten free.
Active Ingredients: In Each Pill: Caffeine (50 mg), Magnesium Salicylate (NSAID) (162.5 mg) (Present as 202 mg of the Tetrahydrate). Purpose: Diuretic, Non-Steroidal Anti-Inflammatory Drug; Analgesic (Pain Reliever). Inactive Ingredients: Acacia, Calcium Carbonate, Corn Starch, Crospovidone, FD&C Blue 1 Lake, Hypromellose, Magnesium Stearate, Maltodextrin, Methylene Blue, Microcrystalline Cellulose, Mineral Oil, Polyethylene Glycol, Polysorbate, Shellac, Silica, Sodium Starch Glycolate, Stearic Acid, Talc, Titanium Dioxide, Triacetin.
Nutrition Facts
Serving Size:
Servings Per Container:
Variation:
| Nutrient | Amount per Serving | % Daily Value |
| --- | --- | --- |
| Gluten Free | | |
| Gluten | 0 | |
Directions: Read all package directions and warnings before use and use only as directed. Adults: Two (2) pills every 4 to 6 hours while symptoms persist, not to exceed eight (8) pills per day. Start taking 5 or 6 days before onset of period and continue until desired relief is obtained or end of period. Drink 6 to 8 glasses of water daily. For use by normally healthy adult only. Persons Under 18 Years of Age: Should use only as directed by a doctor. Note: The appearance of blue-tinted urine, which may occur after taking Diurex Water Pills, is a normal and temporary effect.
Warnings: Reye's syndrome warning: Children and teenagers should not use this product for chicken pox or flu symptoms before a doctor is consulted about Reye's Syndrome, a rare but serious illness reported to be associated with aspirin. Allergy alert: Magnesium salicylate may cause a severe allergic reaction which may include hives; facial swelling; asthma (wheezing); shock. Stomach bleeding: This product contains a non-steroidal anti-inflammatory drug (NSAID), which may cause severe stomach bleeding. The chance is higher if you are age 60 or older; have had stomach ulcers or bleeding problems; take a blood thinning (anticoagulant) or steroid drug; take other drugs containing prescription or nonprescription NSAIDs [aspirin, ibuprofen, naproxen or others]; have 3 or more alcoholic drinks every day while using this product; take more or for a longer time than directed. Do not use: if you have ever had an allergic reaction to any other pain reliever/fever reducer. Ask a doctor before use if stomach bleeding warning applies to you; you have a history of stomach problems, such as heartburn; you have high blood pressure, heart disease, liver cirrhosis or kidney disease; you are taking a diuretic. Ask a doctor or pharmacist before use if you are taking a prescription drug for diabetes, gout or arthritis; taking any other drug. When using this product: limit the use of caffeine-containing medications, foods or beverages because too much caffeine may cause: nervousness; irritability; sleeplessness; occasional rapid heart beat. The recommended dose of this product contains about as much caffeine as one cup of coffee. Stop use and ask a doctor if: an allergic reaction occurs. Seek medical help right away; pain gets worse or lasts more than 10 days; fever gets worse or lasts more than 3 days; redness or swelling is present; ringing in the ears or loss of hearing occurs; any new symptoms appear; you experience any of the following signs of stomach bleeding: feel faint, vomit blood, have bloody or black stools, have stomach pain that does not get better. Pregnancy/breast-feeding warning: If pregnant or breast-feeding, ask a health professional before use. Keep out of reach of children. In case of overdose, get medical help or contact a poison control center right away. Other warnings: Protect product from excessive heat and moisture.