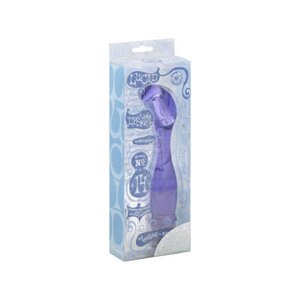 Doc Johnson Lucid Dream No. 14 Vibrator Purple
Waterproof and virtually silent. Women's Health Winner - Best Maxi Vibe. Lucid Dreams the wildly abstract, wickedly erotic collection from Doc Johnson. Presented in a colorful palette of twisted shapes that find their mark, Lucid Dreams are at once waterproof and virtually silent - technological, multispeed wonders with the most advanced motors we've ever made. Lucid Dreams - rapid eye movement in dozens of shapes and styles. PVC - phthalate free. Multi-speed. Uses 2 AA batteries - not included. Waterproof. Multi speed, flexible vibrators made from PVC in assorted organic shapes. Sold as a novelty only. CE listed. Made and packaged in China.
For Vibrating Products: To avoid injury or aggravation of pre-existing conditions, this product should not be used on swollen or inflamed areas or skin lacerations. Do not use while bathing or in the shower. No medical claims are warranted or implied by the use of this product.