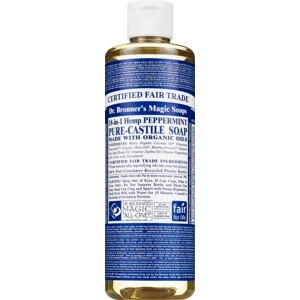 Dr. Bronner's 18-In-1 Hemp Pure-Castile Soap Peppermint
Dilute: Enjoy 1 soap for 18 different uses! Guaranteed no synthetic peppermint oils & 100% vegetarian: super mild castile has outstanding water softening cleansing powers. Preferable to harsh soap & defattening synthetics, it does not cut dirt, but dissolves it. It is the mildest, most pleasant soap you ever used or money back! Enjoy body rub to stimulate body mind - soul - spirit. 100% Vegan. No Detergents. Made with organic oils. No foaming agents. Oregon Tilth Certified Organic.
Water, Saponified Organic Coconut & Organic Olive Oils (w/ Retained Glycerin), Organic Hemp Oil Organic Jojoba Oil, Organic Peppermint Oil, Organic Mentha Arvensis, Citric Acid, Vitamin E.
Concentrated: Clouds when cold. Put in warm room/water. To simplify & enjoy life more, dilute 1/2 oz. Or 2 squirts of this pure castile soap with 2 gallons or sinkful hot water, then towel massage, a facial pack, then wring towel out & fingertip massage your hair & scalp. Enjoy The creamy emollient lather on baby, bath, beach, body, dentures. Deodorant, shaving, aftershave-silk-wool- pets - diapers - car - hand and foot soap. For facial packs, scalp & soothing body rub, add dash on bath towel in sink of hot water. Wring out. Lay over face & scalp. Massage with fingertips. Repeat 3 or 4 times 'til arms, legs & all are rubbed, always towards the heart. Rinse towel in plain hot water and massage again. Breathe deeply! Health is Wealth. Within 9 minutes you feel fresh and clean.
Keep out of eyes. If cap clogs, poke it clear only: Do not squeeze bottle and shoot out soap. Soap can clog and spurt with pump dispensers. Flush eyes well with water for 15 minutes. Consult a physician if irritation persists.