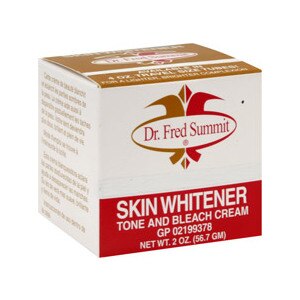 Dr. Fred Summit Skin Whitener
For a lighter, brighter complexion. Complexion beautifier. A highly recommended aid for fading skin discolorations. Formerly known as Dr. Fred Palmer.
Active: Hydroquinone. Other Ingredients: Petrolatum, Stearic Acid, Propylene Glycol, Cetyl Alcohol, Polysorbate 61, Microcrystalline Wax, Paraffin, Water, Citric Acid, Sodium Metabisulfite, Methylparaben, Propylparaben and Fragrance.
Avoid contact with eyes. Do not use on children under 12 years of age. Apply only to small area. If irritation develops, discontinue use. See insert for complete directions and precautions.