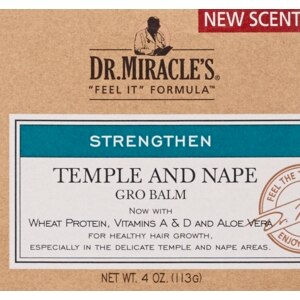 Dr. Miracle's Temple & Nape Gro Balm
Promotes strong, shiny, healthy, growing hair. Excellent on relaxed, braided, weaves or natural hair. Benefits: My Dr. Miracle's Temple & Nape Gro Balm is my prescription to help promote growth in the temple and nape areas. Feel It Formula's tingling sensation supports strong growing hair and healthy scalp. Thermalceutical complex pinpoints scientific ingredients directly in the areas that need it most. Stimulates blood flow to the scalp in the temple and nape areas. Balm continues to work even after you stop feeling it. Our families secret for the problems with your temple and nape, now it's yours! History: As a young boy science always fascinated me. So much that chemistry became my chosen profession. I still remember all the fuss my mom and sisters made about their hair. Breakage, slow growth, damage and lack of shine, it never seemed to end - until now! I always knew science had the answer to end those bad hair day problems. After years of research, testing, trial and error I have come up with my Dr. Miracle's Feel It Formula. Using the latest scientific ingredients like; antioxidants; amino acids; proteins; and anti-inflammatories, I have created a Thermalceutical complex that you will actually feel working on your hair and scalp. The sensation on your scalp promotes healthy, shiny, growing hair while stopping any itching or irritation on your scalp.
Thermalceutical Complex (Aqua, Styrene/Acrylates Copolymer, Cetyl Acetate (and) Acetylated Lanolin Alcohol, Panthenol, Zea Mays (Corn) Oil, Tocopheryl Acetate, Simethicone, Polysorbate 80, Hydrolyzed Soy Protein, Hydrolyzed Wheat Protein, Zinc Ricinoleate), Glycerin, Mineral Oil, Oleth-10, Oleth-20, Dea-Oleth-3 Phosphate, Eugenia Caryophyllus (Clove) Leaf Oil, Menthol, Parfum, Caramel, FD&C Yellow No. 5, FD&C Orange No. 4, DM DM Hydantoin, Methylparaben, Propylparaben, BHA.
Use twice a day for 30 days and evaluate your results. Massage into the temple and nape (back of your head) directly into the scalp. Now experience my Feel It Formula. May be used on your hair as a finishing touch. Leave in. Style as usual.