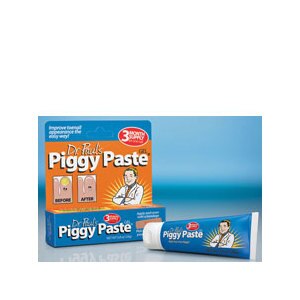 Dr. Paul's Piggy Paste Gel
3 month supply for one nail. Improve toenail appearance the easy way! For clear, healthy nails! Apply and cover with a bandage. Pick up a box with your Piggy Paste! Patient tested at Dr. Paul's Clinic. Easy to apply. No harsh acids or alcohols. Customer approved! I've tried other products and this is the only one that worked. I'm very happy. - Leonard E. Developed by Dr. Paul for his patients in Washington, Illinois. (These statements have not been evaluated by the Food and Drug Administration. This product is not intended to diagnose, treat, cure or prevent any disease).Made in the USA.
Propylene Glycol, Ethoxydiglycol, Acetic Acid, Thymol, Hydroxypropylcellulose, Dimethyl Sulfoxide, Menthol-USP, BHT.
1. Thoroughly clean and dry toenail cuticle area. 2. Apply a pea-sized amount of paste to toenail base at the cuticle once per day. 3. Cover area with a bandage. Contact period needs to be at least 2 hours each day and continued for 12 weeks or longer. Store between 55 to 76 degrees F.
For external use only. Avoid contact with eyes. If irritation develops, discontinue use. If ingested, get medical help. Keep out of reach of children. For adult use only. Stop use if significant irritation occurs in the cuticle or no improvement in nail in 6-8 weeks. Keep out of reach of children. In case of accidental ingestion, get medical help or contact a poison control center right away.