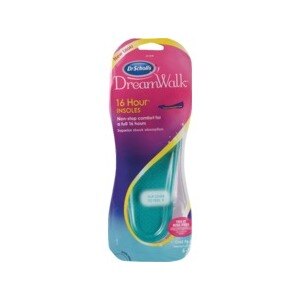 Dr. Scholl's Dream Walk 16 Hour Insoles, Women's 6-10
New Look!

UPC 40785

Non-stop comfort for a full 16 hours

Superior shock absorption

TRY IT RISK FREE
MONEY BACK GUARANTEED
see back for details

Women's sizes
6-10

16 hours of non-stop comfort and support!

All day comfort, even on hard surfaces
Provides superior shock absorption and cushioning
Top cloth fabric helps keep feet cool and dry
Slim design won't crowd toes
FITS COMFORTABLY IN WORK SHOES, CASUAL SHOES, AND SNEAKERS
Removable without damage to shoes
Dr. Scholl's
®
Guarantee:
If you are not completely satisfied with your purchase, mail in the original UPC code from the package along with your sales receipt to MSD Consumer Care, Inc., P.O. Box 377 Memphis, TN 38151 for a replacement or refund.
drscholls.com
© Copyright & Distributed by
MSD Consumer Care, Inc.,
PO Box 377, Memphis,
TN 38151 USA, a subsidiary of
Merck & Co., Inc.,
Whitehouse Station, NJ USA.
All rights reserved.
Made in China
INSTRUCTIONS FOR USE:

Insert insole with fabric side up, lining up heel with back of shoe
Replace after 6 months or at first sign of wear