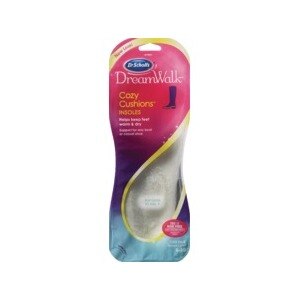 Dr. Scholl's Dream Walk Cozy Cushions Insoles, Women's 6-10
Helps keep feet warm and dry. Support any boot or casual shoe. Helps keep feet warm & dry with all-day comfort! Multi-layer design helps insulate foot. Two plush layers for extra cushioning. Helps keep feet dry by absorbing perspiration. Offers superior comfort on hard surfaces. Fits Comfortable in: rain boots; dress boots; casual shoes; winter boots; casual boots. Removable without damage to shoes. drscholls.com. Made in China.
Trim with scissors for ideal fit. Insert insole fuzzy side up, lining up heel with back of shoe. Hand wash using mild soap; air dry only. Replace after 6 months or at first sign of wear.