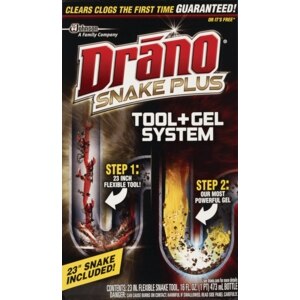 Drano Snake Plus Tool + Gel System
Contents: 18 inch flexible snake tool, 16 fl oz (0.5 qt) 473 ml bottle. Tool + gel! Step 1: 18 inch flexible tool. Step 2: Our most powerful gel. Cleans clogs the first time guaranteed! What's Inside: Step 1: 18 inch flexible tool: Safe to use on all pipes and plumbing configurations; Easy to use tool penetrates hard-to-reach clogs; Unique barb design helps loosen clog; Disposable - just use and toss. Step 2: Our most powerful gel: Safe on all pipes and plumbing fixtures; Single-use bottle ensures you are using the correct dose every time; Our thickest formula clings directly to the clog and helps dissolve it away. Contains no phosphorous. Safe on metal & plastic pipes. A family company since 1886.
Single use product: Step 1: 18 inch flexible tool: A. Insert tool into drain opening as far as it will go. Never force tool into drain. Note: Some drain stoppers may need to be removed to accommodate tool. B. Move the tool up and down two inches to better loosen clog. C. Carefully remove tool from drain as there may be attached clog material. D. For sanitary purposes, immediately dispose of tool before proceeding to Step 2. Do not attempt to use tool after pouring Pro Concentrate Gel down drain, as product could splash up during tool use. Step 2: Pro Concentrate Gel A. After discarding tool, slowly pour entire contents of bottle down drain. B. Allow to work for 30 minutes. Then flush with hot water to clear away remaining clog material.
Danger: Cam cause burns on contact. Harmful if swallowed. Read side panel carefully. Contains sodium hydroxide and sodium hypochlorite. Important: Open carefully. Do not squeeze bottle, avoid splashing, and clean up spills at once. Never use a plunger during or after use of Drano Pro Concentrate Gel because product may still be present if drain is not clear. Do not reuse empty container. Replace cap before discarding. Do not mix Drano Pro Concentrate Gel with other household cleaners as hazardous gases may be released. If gases are released, leave area immediately - ventilate if possible. Danger: Can cause burns on contact. Harmful if swallowed. Avoid contact with eyes, skin and clothing. Wash thoroughly after handling. Thoroughly clean clothing before reuse. Avoid breathing vapors. Use only with adequate ventilation. First Aid: Give Immediately. If in Eyes: Rinse immediately with water. Remove contact lenses, then continue to rinse with water for 15 minutes. If Swallowed: Rinse mouth. Drink a glass full of milk or water. Do not induce vomiting. If on Skin: Remove affected clothing. Immediately rinse skin with water for 15 minutes. Get medical attention immediately. Keep out of reach of children and pets. Keep container tightly closed and stored in a locked cabinet.