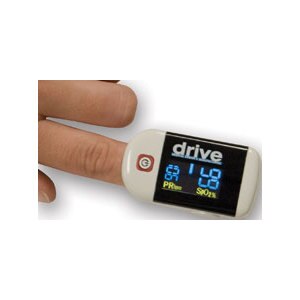 Drive Medical Finger Pulse Oximter Dual View LCD
This Pulse Oximeter by Drive Medical has a 4-way, 2 color organic LED display. It is a portable, non-invasive, spot-check which can also measure the pulse rate of an adult and a pediatric patient. This product is not intended for continuously monitoring and does require a prescription as it is intended for medical purposes. Uses AAA batteries.
Features and Benefits
Portable non-invasive, spot-check, oxygen saturation of arterial hemoglobin (SpO2) and pulse rate of adult and pediatric patient at home, and hospital (including clinical use in an internist/surgery, anesthesia, intensive care and etc.)
Not for continuously monitoring
Uses AAA batteries.
Product Specifications
Battery: AAA Batteries
Case: Black rubber Protector
Warranty: Limited Lifetime
Drive Model # 18705