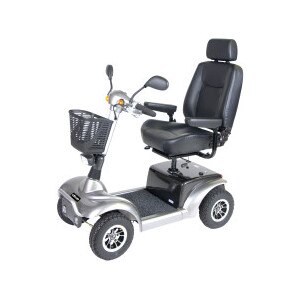 Drive Medical Prowler Mobility Scooter, Grey 20"
Industry-leading 500 lb. weight capacity. High ground clearance and pneumatic tires ideal for outdoor travel. Adjustable angle, delta tiller for comfortable, ergonomic control. Standard safety package includes headlight, horn, turn signals and dual rearview mirrors. Anti-tip wheels for greater safety. Comfortable swivel Captain's seat with fold-down backrest and adjustable height headrest. Captain's Seats feature deep-contoured cushions and backs for maximum comfort and support. Seat can be moved forward or backward using the auto-style seat slides. Removable flip-up armrests have adjustable height, width and angle. All seats are height adjustable and feature 25 degrees of recline. Additional hand-operated drum brake for use when extra-quick stops are necessary. Batteries and charger included.

Your Drive Peace of Mind Plan
Rest Assured
Your scooter is backed by a valuable protection plan that provides professional support and service at virtually no cost to you:
Troubleshooting, replacement part and repair assistance available by phone Monday-Friday 8:30AM-5:30PM ET.
Troubleshooting and service by highly trained industry professionals with years of product experience.
No out-of-pocket expense for repairs or replacements. You'll only incur costs should you need to ship the product.
It's Easy to Use the PlanBefore you call:
Have the product nearby so that your Peace of Mind Service Technician can start troubleshooting right away when you're ready:
Call CVS.com Customer Care at 1-888-607-4287.
Your service technician will evaluate your issue and take necessary steps to remedy the problem.
If the issue cannot be resolved over the phone, the service technician will explain the quickest, most efficient solution for getting the product running again. Solutions include, but are not limited to, shipment of an easy-to-install replacement part, service by an authorized service technician or service at our facility.
Damage resulting from neglect, misuse, and failure to follow manufacturer's instructions or normal wear and tear (tires, fabric/upholstery, bearings, ABS plastic shrouds, footrests, fuses, bulbs, bumpers, aesthetics, etc.) are excluded from coverage. Coverage also excludes battery or charger installation or maintenance service.
Industry-Leading Warranty:
Manufacturer offers a limited lifetime warranty to the original purchaser for the frame of your Drive scooter. This includes a 14-month limited warranty for the drive train components (transaxle, motor, wiring harness, and brake) and 6-month warranty on the battery. This warranty does not extend to purchasers of used equipment. The limited warranty does not cover labor charges.
Returns:
This item cannot be returned to a CVS/pharmacy store or CVS.com. For return questions, please contact Customer Care at 1-888-607-4287.
This item may be returned to the manufacturer within 30 days of shipment if in new condition, with original packing intact. Customer is responsible for return shipping costs.