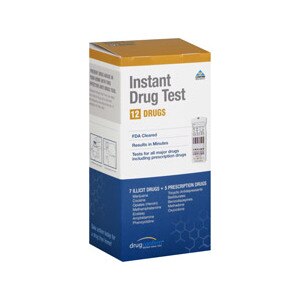 DrugConfirm Instant Drug Test 12 Drugs
This Kit Contains: One (1) DrugConfirm 12 Home Drug Test and one (1) moisture absorbent packet in sealed pouch (this packet should be discarded); one (1) instruction booklet; one (1) confirmation identification label; one (1) plastic sealable bag; one (1) pre-addressed mailing box. 7 Illicit Drugs: marijuana; cocaine; opiates (heroin); methamphetamine; ecstasy; amphetamine; phencyclidine + 5 prescription drugs: tricyclic antidepressants; barbiturates; benzodiazepines; methadone; oxycodone. FDA cleared. Results in minutes. Tests for all major drugs including prescription drugs. Advantages of DrugConfirm: FDA approved; Fast Results: Results in minutes at the privacy of your home; Confidential: No personal information is required; Easy to Use & Convenient: This test is a simple process that you can do in the privacy of your own home; A fast and efficient way of dealing with a potential drug user, no lies or doubts. Empower you teen to say no to peer pressure - I can't even try a little, my dad can test me anytime. Prevent drug abuse in your home with this effective anti drug tool. Research shows that if we can delay the onset of drug use or diminish the frequency we reduce the risk of addiction for that child. Take action today for a drug free home!
1. Collect the urine sample. 2. Get results in 4-7 min.