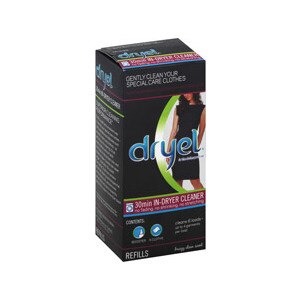 Dryel In-Dryer Cleaning Refills Clean Breeze
Gently clean your special care clothes. Hand washables. Fine fabrics. Dry clean only. For the clothes you love. Contents: booster, 6 clothes. Cleaning Booster Spray (3 fl oz). 6 UltraCleaning Cloths (7.5 x 10 inch)Refills. No fading, no shrinking. No stretching. Cleans 6 loads - up to 4 garments per load. Superior cleaning performance (Get two times the cleaning power of the previous Dryel formulation when you use Dryel Cleaning Booster spray). Dryel is a safe and convenient way to care for your special care clothes - hand washables and delicates such as wools, linens, and cottons - as well as your dry cleaning. Dryel cleans clothes without harsh chemicals to help protect color and preserve shape. Clothes look newer longer - even after 50 cycles! Even better, Dryel now contains advanced cleaning technologies that remove body soils, and eliminates perspiration and odors caused by bacteria for a down-to-the-fiber clean! Environmentally friendly. Contains no phosphate, perchloroethylene (perc), or trichloroethylene. Satisfaction guaranteed. For money-saving coupons and more tips, go to: www.dryel.com. HE - High Efficiency; Safe for use in High Efficiency Dryers. Dryel goes beyond freshening to get a down-to-the-fiber clean! Made in the USA.
Cleaning Cloth Contains Water, Cleaning Agents, Preservatives, a Fiber Protection Agent and Perfume. Booster Spray Contains Water, Biodegradable Cleaning Agents and Preservatives.
To Clean Your Special Care Clothes (Hand Washables, Dry Clean Only, Delicates, Sweaters and Jeans): 1. Treat it. Spray Dryel Cleaning Booster on garment. Pay special attention to areas like collars and underarms. 2. Load it. Add 1-4 garments and one UltraCleaning Cloth to the reusable Fabric Protection Bag. 3. Clean it. Tumble in dryer on medium heat for 30 minutes. Detailed instructions inside. Silks & rayons have potential for water spotting, treatment is discouraged. Not formulated for use on leather, velvet, suede or fur. Not meant to clean heavily soiled clothes caked with mud or grease. Also try Dryel On the Go Instant Stain Remover Pen to remove visible stains.
Keep out of the reach of children. In case of eye contact with solutions, rinse thoroughly with water.